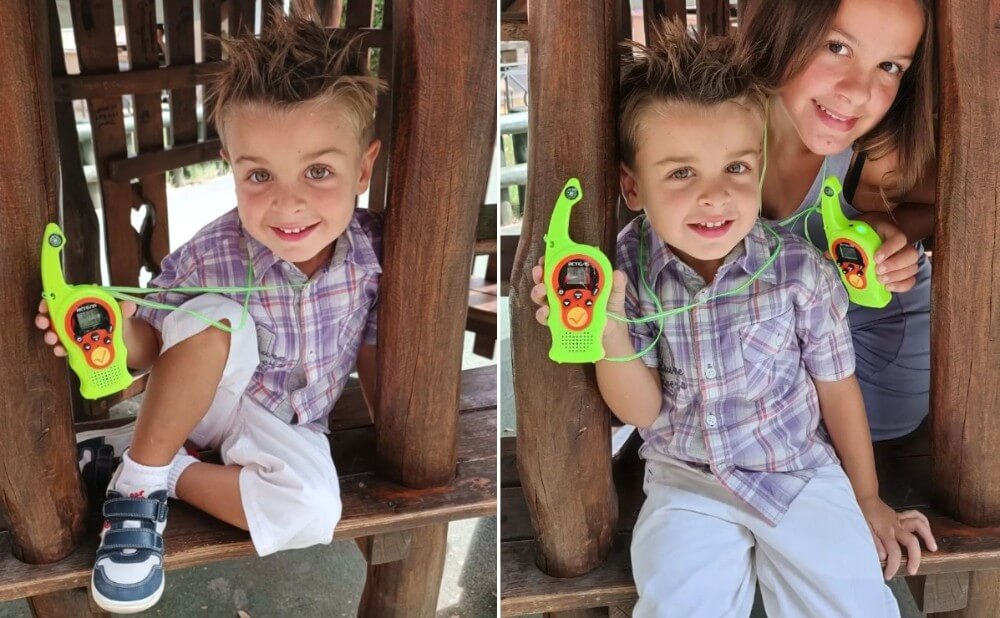 Toy Review: The Complete Review of RT75/RT675 Walkie Talkies
Retevis RT75/RT675 is a classic children's walkie talkie. This can also be seen directly from the special appearance and the bright color. This review is your guide to the RT75/RT675 toy walkie talkies. Discover if these walkie talkies are the perfect fit for your child's next adventure!
Overview
Retevis RT75/RT675 comes in a colourful, compact package. This includes 2 walkie talkies, an operating manual and 2 hand straps. In addition, there is a belt clip on both radios. One walkie talkie without battery weighed approx. 82g. That's a very light weight. Even with batteries, the device weighs just over 100 g. The dimensions, including the antenna, are 15.3 x 5.9 x 2.8 cm at the widest points. All in all, the RT75/RT675 can be easily held even by children for a longer period of time.
Power Supply
Retevis RT75/RT675 is powered by 3 AAA batteries. These are simply placed in the compartment on the back and can be exchanged as desired. This means that the walkie-talkie can be used for as long as you like, provided there are enough batteries. 3 full AAA batteries will last about a day in the radio with heavy use. If the RT75/RT675 is only used occasionally, the batteries will last more than a week.
Multiple Functions
For a children's walkie talkie, RT75/RT675 has quite a lot of features. The first thing that struck me the most was the compass, which is built into the top of the antenna. You won't find this in almost any other radio. This is particularly helpful when you are doing a scavenger hunt with children, for example.
The walkie talkie also has VOX. This means that the Retevis RT75/RT675 can be used for radio transmissions without having to press the talk button. This function is useful, for example, when riding a bicycle.
The walkie talkie also has a low battery alarm, a flashlight and a key lock. The latter is helpful so that the child does not accidentally change the channel.
Conclusions
Retevis RT75/RT675 is a very good walkie talkie for children. It can be used very well at short distances and also at home. It stands out because of its bright color and is therefore not lost too quickly. It also convinced me with its range of functions and especially the integrated compass.
Thank you for reading this blog! If you have any questions, please leave your comments below. We are looking forward to your comments!
Previous Blog: Walkie Talkies Help Supervise Kids During Camping Trips