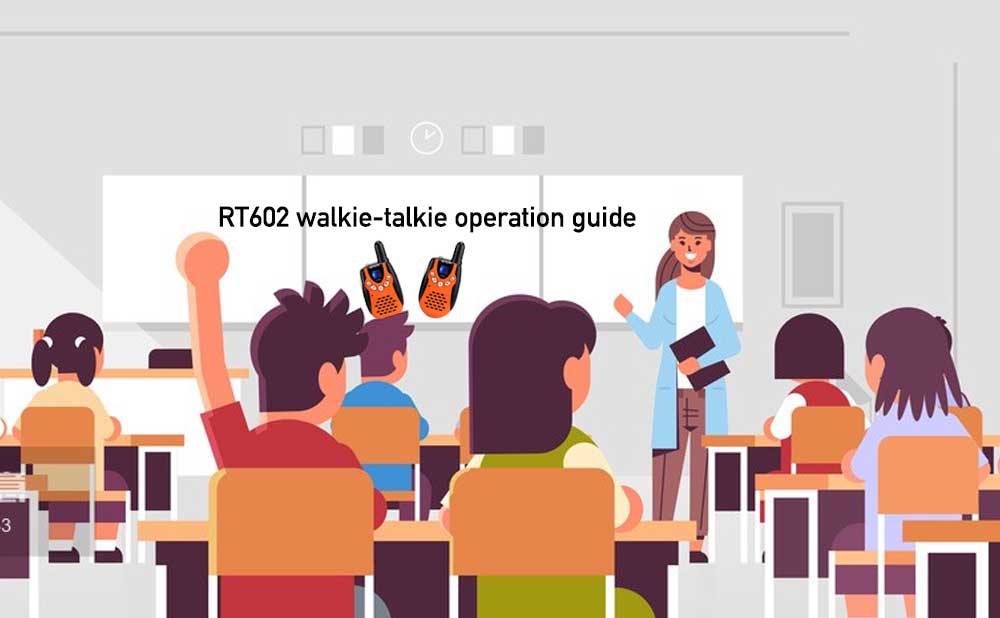 Operation guide of Retevis RT602 rechargeable walkie talkie
Retevis RT602 is an excellent rechargeable children's walkie talkie which is popular among boys and girls. It has plenty of accessories, including two Belt clips, two rechargeable batteries, adapter and Charger base. These sufficient accessories can meet the needs of use, so there is no need to purchase separately. The most important thing is that the operation of Retevis RT602 is very simple, so it is easy for children to learn to use it. Next, I will tell you how to operate it.
Buttons introduction
Retevis RT602 has a total of seven buttons, of which there are five small buttons on the front and two large buttons on the side. Of the two buttons on the side, the PTT button is on the left. On the right is the light button. The five buttons on the front of this walkie talkie are power button, menu button, call button, channel up and down. There also have small icons on these buttons for children to operate easily.
How to set and cancel keyboard lock?
If parents want to prevent their children from accidentally pressing buttons, they will often set keyboard lock. Parents only need to hold on the M button for several seconds and make a little beep, then the lock icon will appear on the LED screen.
On the contrary, if parents want to turn off the keyboard lock, they only need to press and hold the M key.
How to set and change call tone?
The calling tone is to remind children that someone contact them. If the call tone is turned on, the child will not miss it even if the child is immersed in playing with friends. The way to turn on the beep is very simple—just press the C button in the middle of the walkie talkie.
Retevis RT602 has ten different tones to choose from. To change the call tone, you only need to press M button four times with the walkie talkie on. The LED screen will be as shown below. Then press the up or down button to select the child's favorite among the ten call tones.
The operation of Retevis RT602 rechargeable walkie talkie is very simple, so children can learn to use it quickly. If you have any questions, please leave a comment below.