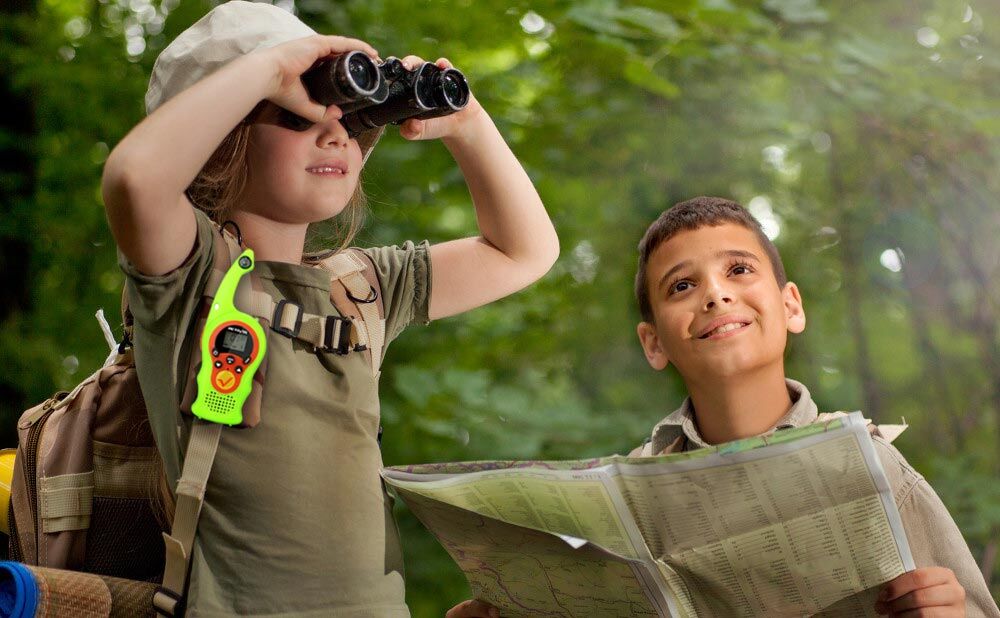 Outdoor long distance walkie talkie unique to children
Outdoor long distance walkie talkie unique to children
RT75 bright green walkie talkie is a real walkie talkie for kids.
You can see it has a unique compass on the top of the antenna, children will interest in exploring nature.
Hidden antenna design, kids Walkie Talkies with an antenna can receive signals well even in crowded places,
and it is also able to block out noise automatically to make the sounds clearer.
Multiple Channels & Wide communicating Range, This Toy Walkies Talkies has 22 channels, you can keep a funny
the secret with one buddy or share with multiple partners intent, in a garden or in a mysterious treehouse in the woods;
Up to 3 miles in the open field enable a long-range play, using it to find treasure, maybe a long lost car or keys.
Easy to Use, Walkie Talkies for Boys and girls are easy for kids to operate. When calling a buddy, click the "Talk" button;
Click the "up/down" to change the channel, clicking the "Menu" to change codes open calling ringtone and switch voice
transmission, etc.
Perfect Gift for kids, The Walkie Talkies for Kids is safe and has low radiation.
The kids can ready to contact family and friends. So as to perfect for any indoor or outdoor activities.
This is a best boy birthday gift for kids aged 4,5,6,7,8,9,10 years old.
Perfect size for kids, The groove design is suitable for children's small hands.
Children can easily hold it in their hands without feeling uncomfortable. At the same time, it has a function of preventing falling off.
The matching lanyard can make the walkie-talkie hang on the child's neck, and will not fall on the ground when playing
What You Get A Pair of Retevis Walkie Talkies Boys and Girls, If you want to know more information about it, please contact us: info@retevistoys.com