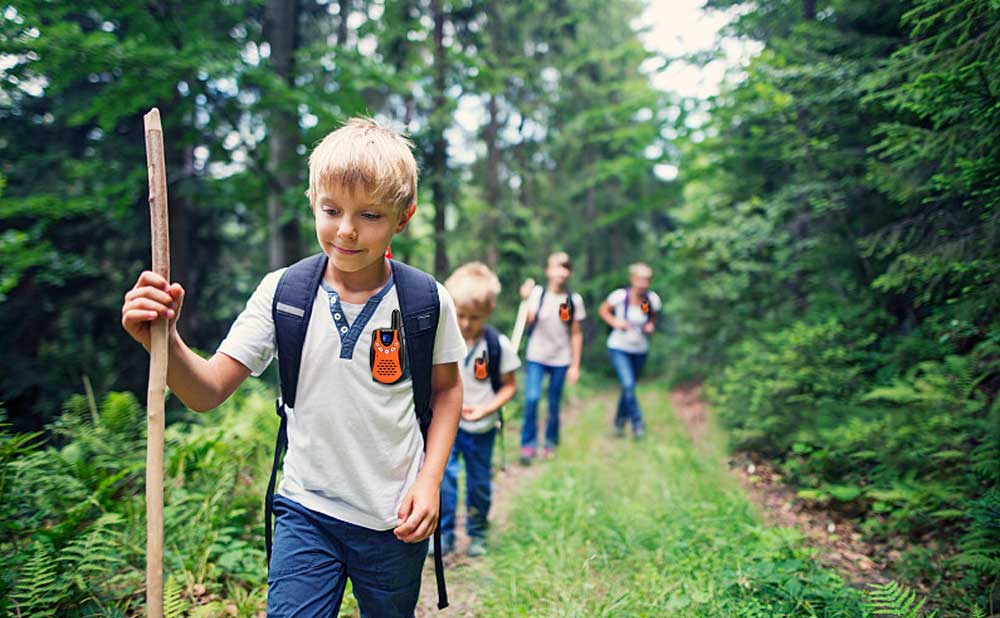 Retevis RT602 best children's walkie talkies with kids explore outside
Children's nature is to like being outdoors and being close to nature. Equipped with a walkie talkie allows children to keep in touch with their parents at any time while freely exploring nature. Retevis RT602 are the best children's walkie talkies. Next I will introduce its advantages in detail.
One to more communication
Retevis RT602 has a total of 22 channels. This allows children to set up different channels to talk to friends and family. It can communicate not only one to one but also one to more. This means that when children wants to deliver the same message to several people, it only needs to say it once. Communicating with multiple people makes the chat more interesting and the communication more efficient.
Easy to carry
The size of the Retevis RT602 is small and exquisite, which is suitable for children with small hands. In addition, its weight is also very light. Therefore, even if the child uses the walkie talkie for a long time, it will not cause a big burden on the hands. The accessories of this walkie talkie also include belt clip. When children don't want to hold it with their hands, they can use a belt clip to fix the walkie talkie to their clothes or backpack.
Easy to charge
The accessories of Retevis RT602 include rechargeable batteries, adapter and charger base. Rechargeable batteries are more environmentally friendly and money-saving than disposable batteries. The box of this walkie talkie contains the things needed for charging, so there is no need to buy it separately. In addition, the charger base contains two charging slots that can charge two walkie talkies at the same time. This greatly improves the charging efficiency.
Free children's hands
Retevis RT602 has VOX function, which allows children quickly communicate without pressing PTT button. It's useful when children are busy to play games.
All in all, Retevis RT602 are the best children's walkie talkies for exploring nature. If you have any questions, please leave a comment below.