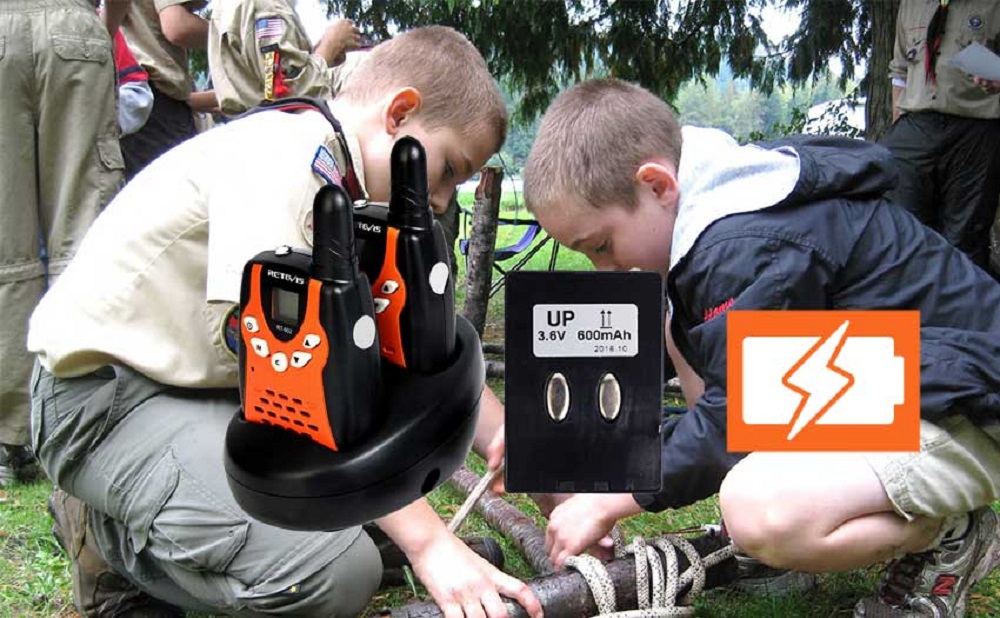 Retevis RT602 rechargeable walkie talkies for scouts
Scouting activities are very popular among children in various countries. The purpose of Scouting is to contribute to the development of young people in all aspects. Children are mainly organized for various outdoor sports, including camping, hiking, swimming, abseiling, cycling and canoeing, etc. In these outdoor activities, if children are equipped with Retevis RT602 rechargeable walkie talkies for scouts, they can better cooperate with peers to successfully complete the challenge. Next, I will introduce the advantages of this walkie talkie to you.
Easy to carry
The size of Retevis RT602 is specially designed for children. Its size and weight are very suitable for children. So children will not be unable to hold the walkie-talkie because it is too big, nor will they feel tired because it is too heavy. In addition, the package also includes belt clip. Children can attach the walkie talkie to their jacket pocket, pants or backpack.
VOX function
When children are engaged in scouting activities such as hiking, it is sometimes not convenient to press buttons with their hands. VOX function means that children can make a call without pressing the PTT button, which frees their hands.
Rechargeable
The battery of Retevis RT602 is rechargeable. Moreover, the accessories of this walkie talkie also include charger base and adapter. It's worth mentioning that these things are included in the box and don't need to be purchased separately. Retevis RT602 rechargeable walkie talkie is environmentally friendly and saves money on battery replacement.
Built-in flashlight
In the evening, various scouting activities will also be held. If the children has a flashlight, it will bring a lot of convenience to night activities. Retevis RT602 has a built-in flashlight on top. Although its brightness and illumination range cannot be compared with a real flashlight. It can be used as a backup flashlight when there is no flashlight or when the flashlight is out of power.
In scouting activities, Retevis RT602 rechargeable walkie talkies for scouts will bring great help to children. If you have any questions, please leave a comment below.