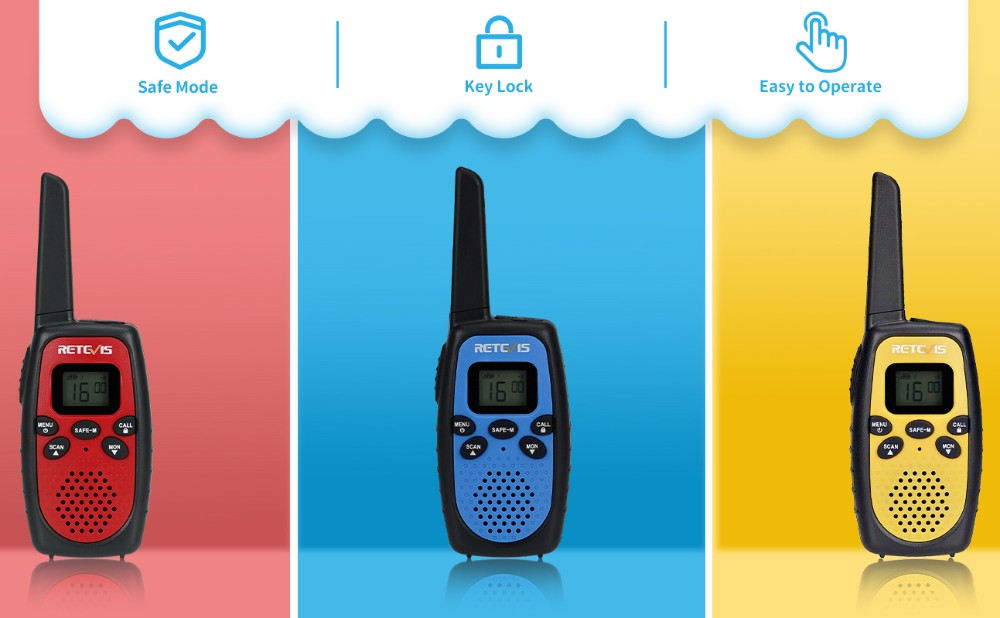 New Arrivals: RT628S Triple Color Walkie Talkies with Safe Mode
Kids these days have an unquenchable thirst for gadgets and gizmos of all kinds. But if you're looking for something that's both fun and educational, then you won't go wrong with the new RT628S Triple Color Walkie Talkies for kids. These walkie talkies are designed with safety in mind, making them the perfect choice for kids who love to explore and stay connected.

RT628S walkie talkies features a robust design that's durable and long-lasting, with a colorful outer shell, red, blue, and yellow color optional, that's sure to appeal to boys and girls.
Safe Mode Function
RT628S comes with a unique Safe Mode feature. On the channel 22 (FRS)/ channel 16 (PMR446), long press the "SAFE-M" key for 3 seconds to enter the safe mode. This ensures that the kids are safe and secure while using the device, and that the walkie talkies are used solely for their intended purpose.
VOX Hands-Free
VOX, stands for Voice Activated Transmit. It's a feature enables kids to use the radio"hands free." It means that the radio allows kids to start transmitting towards the microphone without pressing the PTT key. There are 3 levels of VOX in total.
Key Lock Function
RT628S has key lock function, when it is activated, it will lock the buttons so that in case the kids presses them by mistake, it does not result in some unwanted action.
Other Features
RT628S Triple Color Walkie Talkies also comes with a range of additional features, such as squelch function, monitor function, scan function, etc. They also come with a belt clip, so the kids can keep the walkie talkies close at hand at all times.

So if you're looking for a fun and educational gift for your kids, then the RT628S Triple Color Walkie Talkies are definitely worth considering. They're the perfect way to keep your kids safe and secure while still allowing them to have all the fun of exploring and staying connected with their friends.