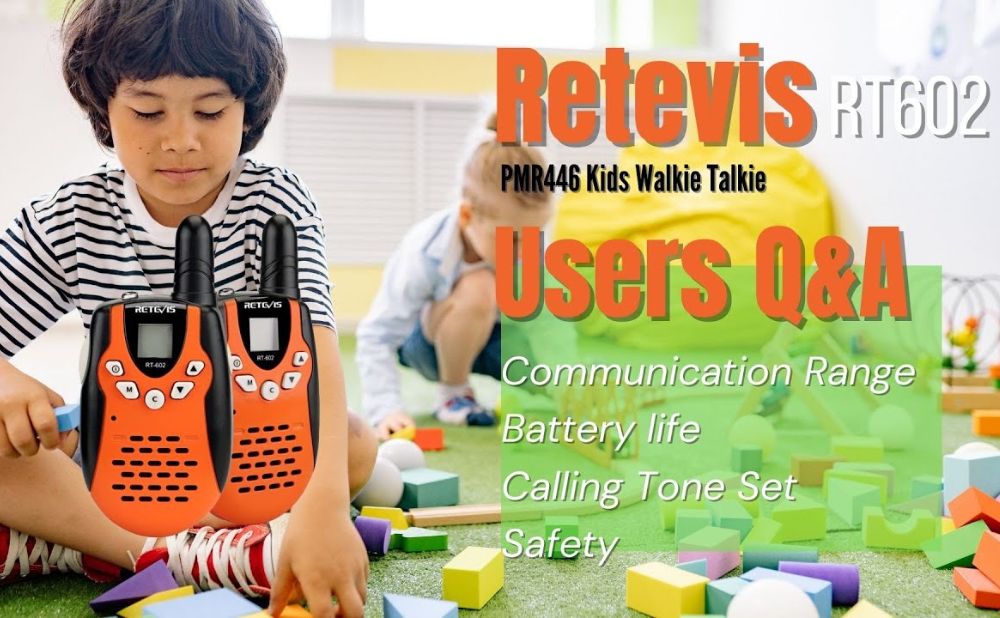 Q&A About Retevis RT602 Rechargeable Toy Walkie Talkies
Get the answers to all your questions about Retevis RT602 Rechargeable Toy Walkie Talkies! Learn about their features, performance, and usage, as well as tips and tricks for getting the most out of your walkie talkies.
Questions One :

What's the range on RT602?
Answer: The range of Retevis RT602 walkie talkie is about 800-1000 meters in urban densely populated areas. This range is just for reference only, since the distance of the walkie talkie is greatly affected factors as terrain, weather, obstacles, etc.
Questions Two :

How to get 4 packs to work with each other?
Answer: Yes, they have been programmed to the same frequency and privacy code. You just need to turn them to the same channel, they can work with each other directly.
Questions Three:

Does the RT602 work with the earpieces?
Answer: Yes, it does. The earpiece jack of RT602 is on the right side of the walkie talkie, which is a 2.5mm jack. The compatible earpiece is J9109A
Questions Four:

Can I just recharge the units without batteries?
Answer: No, you should install the batteries at firstly and the recharge the units by the charging base. RT602 comes with 1 charging base and rechargeable 2*600mAh Li-ion batteries. The charger base make you can charge the 2 walkie talkies at the same time.
Questions Five:

How many chanels does it have?
Answer: RT602 have 3 versions, FRS version for US and Canada, PMR446 version for European countries, and AU version for Australia. The FRS version has 22 channels, PMR446 version has 16 channels and AU version has 80 channels.