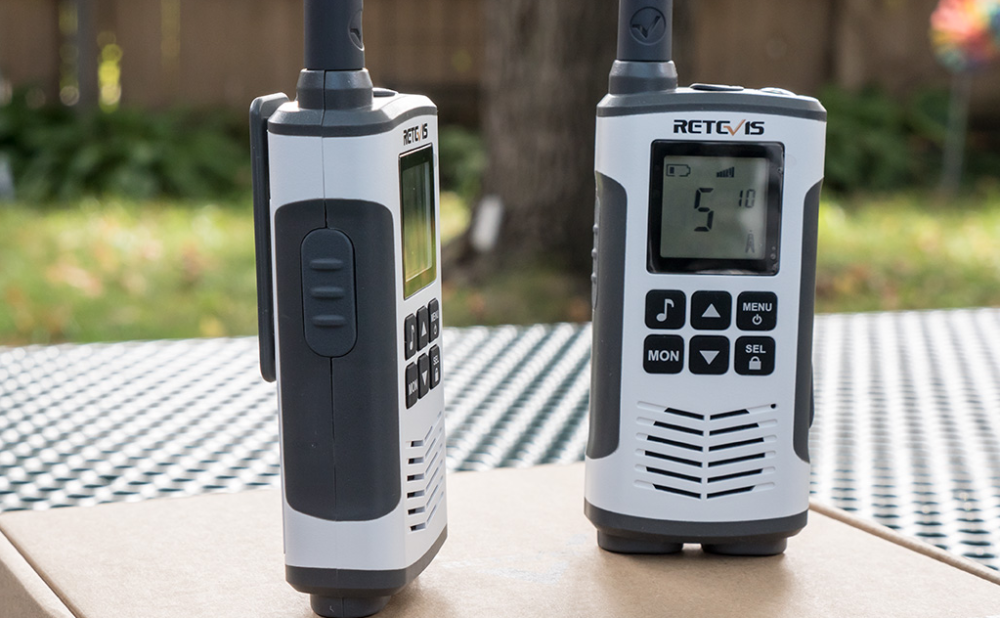 Customer Review: The Complete Review Of RT45 Walkie Talkies
Externally, Retevis RT45 looks like a classic walkie-talkie for family use. It is a long range two-way radio with a range of up to 2 miles, making it the ideal choice for communicating with family members during outdoor activities. It features a clear sound, simple user interface.
Overview
The Retevis RT45 is supplied in different set sizes. I got it as a set of 2. In addition to the two radios, each with a belt clip on the back. A user manual and a USB cable for charging are also included. There are also 3 AA batteries in each of the two walkie-talkies. My measurements of the radio have shown that the Retevis RT45 weighs about 155 g with batteries. It is so light that it is not a big burden when hiking and can be held for a long time without any effort. The dimensions are 17.3 x 5.4 x 2.6 cm. Accordingly, the Retevis RT45 is small and handy, which means that it can be stowed away to save space, among other things.
Power Supply
3 AA batteries are required per radio for power supply. These are also included in the scope of delivery. The batteries are usually sufficient to use the Retevis RT45 intensively for more than a day. If you only use the device occasionally, the batteries will last for several days.
The batteries in the Retevis RT45 can also be easily recharged. All you have to do is connect the radio device to a PC, a power bank or, with a suitable adapter, to a socket or cigarette lighter using the supplied USB cable.
Calling Range
It has a maximum distance of 1.5 km to 2 km. I tested the device up to 2 km in an open field. The conversation partner was always easy to understand. However, it should be noted that the call quality has decreased with increasing distance. Obstacles such as houses or trees can also significantly reduce the range.
Multiple Functions
A low-battery reminder also indicates when the energy cells need to be replaced or charged. In addition, Retevis RT45 offers some other functionalities. For example, 10 different ring tones can announce the conversation. A key lock prevents the channels from being accidentally changed.
Thanks to the integrated VOX, the RT45 does not have to be held in your hand the whole time during a call. Other functionalities worth mentioning are the room monitor, scan function, an integrated LED flashlight, Roger beep and a headphone jack.
Conclusion – Retevis RT45
The Retevis RT45 is a classic entry-level model. It is characterized by a medium range, a good range of functions and a fair price. In addition, everything you need for use is included in the scope of delivery. I would like to say it is the best walkie talkies for families.
Thank you for reading this blog! If you have any questions, please leave your comments below. We are looking forward to your comments!
Previous Blog: Toy Review: The Complete Review of RT75/RT675 Walkie Talkies