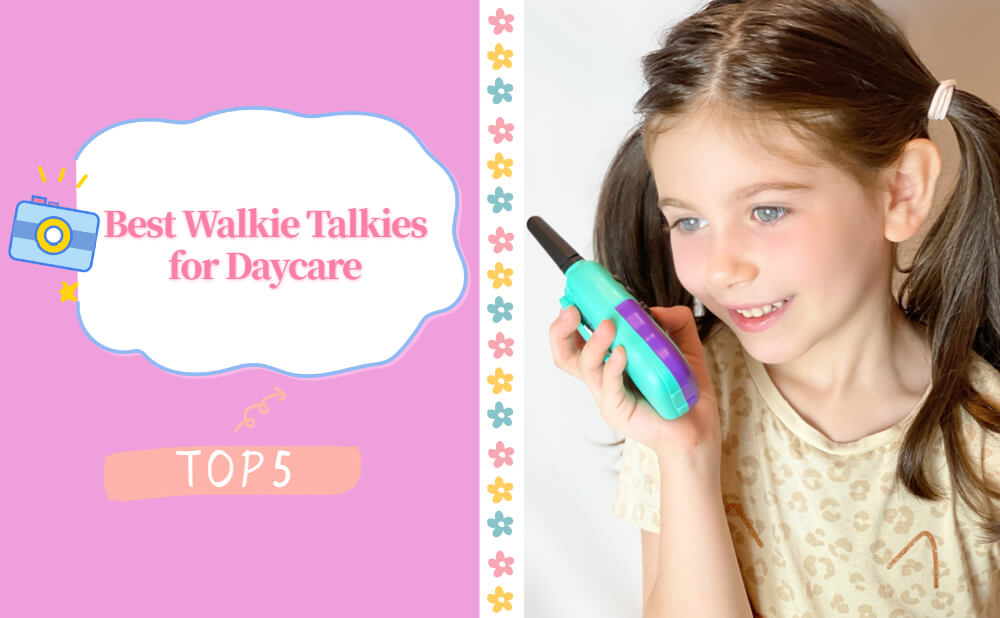 Top 5 Best Walkie Talkies for Daycare You Should Know
Daycares are increasingly turning to walkie talkies to stay connected with their staff, and provide an effective and efficient way to communicate. In this article, we will talk about why walkie talkies are a good communication solution for day care. You will also find the Top 5 best walkie talkies for daycare.
Main Benefits of Walkie Talkies
1. Instant communication. By having a direct line of communication, staff can stay updated on the latest developments and act accordingly. This could include updating each other on the location of children, responding to any potential hazards, or dealing with medical emergencies.
2. Private Communication. By having a discreet form of communication, staff can ensure that any conversations are kept private and not overheard by the children. This allows them to focus on providing quality care without having to worry about what the children are hearing.
3. Improve efficiency. By having direct access to other staff members, staff can quickly and easily assign tasks and make sure that they are completed in a timely manner. This can be especially helpful during busy times, when tasks may need to be completed quickly and efficiently.
Overall, walkie talkies provide a convenient and secure way for daycares to stay connected with their staff and provide a safe and secure environment for the children in their care.
Top 5 Best Walkie Talkies for Daycare
Key Points:
1. Clear communication and excellent range. Up 0.5-1.5 miles, depending on terrain and buildings;
2. VOX hands-free function. Achieves transmission activated by your voice; no need to press PTT to talk;
3. 22 Channels and 191 CTSCSS. Ensure the one-to-many communication and protect the privacy of calls;
4. Sturdy and durable. Fall resistant, long-term service life.
Key Points:
1. Suitable for all genders. It has 6 color options, pink, black, green, yellow, dark blue, and sky blue;
2. Work out of the box. No license required, easy for beginners to start and save the time of learning;
3. Adjustable volume and clear sound quality. The auto squelch function can reduce background noise;
4. 2.5 mm headphone jack. Ensure you can connect an earpiece to the walkie talkie for hands-free.
Retevis RT602

Orange Rechargeable Mini Walkie Talkie
Key Points:
1. Small and portable to use. Smaller than a computer mouse. It doesn't take much space to carry;
2. Long battery life and rechargeable. Come with a 2-in-1 desktop charger; Charge 2 radios at one time;
3. Key Lock Function. It can prevent the staff from accidentally changing the channel during busy work;
4. Decent range and good sound quality. Up 0.5-1.5 miles, depending on terrain and buildings.
Key Points:
1. Fashion design with bright color. Beautiful light greenish blue color; It also has a pink color;
2. LCD backlit screen. The screen is convenient to check channel, battery condition and operate functions;
3. Built-in flashlight. Ensure the walkie talkies to use on the night or dark environment;
4. Easy to carry with belt clip. It comes with a removable belt clip. You can clip the radio to the clothes.
Key Points:
1. Safe Mode Function. Ensure the safety and security while using the radio and prevent strange calls;
2. 3 Packs and 3 colors. You can get the 3 different color walkie talkies in the on set;
3. Key Lock Function. It can prevent the staff from accidentally changing the channel while working;
4. Full functions as adult walkie talkies. It has squelch function, monitor function, scan function, etc.
Thank you for reading this blog! If you have any questions, please leave your comments below. We are looking forward to your comments!
Previous Blog: What is a Video Walkie Talkie? A Beginners Guide